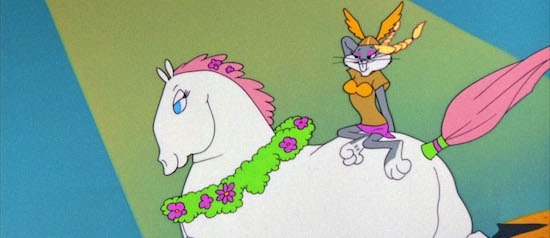 Screening
Classic Cartoons by Chuck Jones
Part of World of Animation
Saturday, December 18, 2021, 2:30 p.m.
Museum of the Moving Image - Redstone Theater
This selection of 35mm shorts directed by Chuck Jones spans the breadth of his output during his prime years with Warner Bros. Cartoons, showcasing some of his greatest work as well as several of the most beloved Looney Tunes characters, including Bugs Bunny, Daffy Duck, Elmer Fudd, the Road Runner, and the Coyote.
For Scent-imental Reasons (1949, 7 mins.)
The Scarlet Pumpernickel (1950, 7 mins.)
Rabbit Seasoning (1952, 7 mins.)
From A to Z-Z-Z-Z (1954, 7 mins.)
One Froggy Evening (1955, 7 mins.)
What's Opera, Doc? (1957, 7 mins.)
High Note (1960, 7 mins.)
The Dot and the Line: A Romance in Lower Mathematics (1965, 10 mins.)
Zip Zip Hooray! (1964, 6 mins.)
Approx. Total Running Time: 65 mins.
Tickets include Museum admission. Ticketholders are welcome to attend the 1:00 p.m. presentation by Craig Kausen, Making Dr. Seuss' How the Grinch Stole Christmas.
Tickets: $15 / $11 senior and students / $9 youth (ages 3–17) / Free or discounted ($11) for MoMI members. Order online. Please pick up tickets at the Museum's admissions desk upon arrival. All seating is general admission. Review safety protocols before your visit.