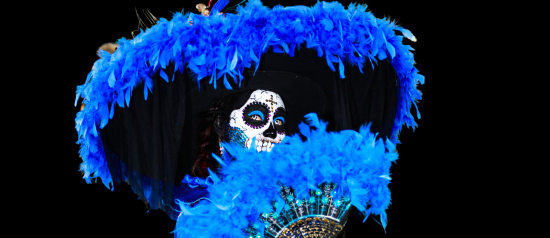 Live Event
Day of the Dead Celebration
Monday, November 1, 4:00 p.m.-6:30 p.m.
Museum of the Moving Image
Join us to celebrate Day of the Dead with a performance by Mariachi Nuevo Amanecer Academy, a group of talented teen and kid musicians, followed by a presentation of Aztec Mexica dance, poetry, and music from indigenous dance troupe Yayauhki Tezcatlipoka depicting the roots of this holiday. All are welcome to explore our public altar in the Museum's courtyard, followed by a catrina and catrin contest hosted by artist historian Rosa Ruíz. There will be a face-painting session inspired by the catrina and other historical characters from Día de Muertos. All performances are free; for a discounted price we will offer a special 6:30 p.m screening of The Book of Life, an animated film that tells a Day of the Dead story set in a fictional museum. It features the voices of Mexican stars Diego Luna, Kate del Castillo, and Guillermo del Toro, also a producer of the film. To purchase a ticket for the screening, click here. Ticket holders receive a 10% discount across the street at Tacuba Cantina Mexicana, where guests can sample a special menu of traditional Day of the Dead foods, with altars on view (discount valid for November 1, 2021 only).

Recommended for ages 5+
Tickets for The Book of Life: $15/ $11 senior and students / $9 youth (ages 3–17) / free or discounted for MoMI members. Order tickets. All seating is general admission. Please review safety protocols before your visit. For a 15% discount on tickets, use code DAYOFDEAD15.
Celebración del Día de Muertos
Lunes, 1 de noviembre de 2021, 4:00 pm a 6:30 pm
Museo de la Imagen en Movimiento - Patio
Acompáñanos para celebrar el Día de Muertos con música en vivo de la Academia de Mariachi Nuevo Amanecer, un grupo de niños y jóvenes músicos talentosos, seguido por una presentación de baile, poesía y música Méxica con el grupo de danza indígena Yayauhki Tezcatlipoka. El público puede disfrutar de un altar en el patio del museo y un concurso de catrina y catrín. Habrá una sesión de pintura de caras, para quienes se atrevan a disfrazarse como personajes históricos de Dia de Muertos. Todas las presentaciones son gratuitas y, por un precio con descuento, ofrecemos una proyección especial a las 6:30 pm de El libro de la Vida, una película animada producida por Guillermo del Toro que cuenta la historia del Día de Muertos en un museo ficticio. Cuenta con las voces de las estrellas mexicanas Diego Luna, Kate del Castillo y Guillermo del Toro. Los poseedores de boletos reciben un descuento del 10% en el restaurante Tacuba Cantina Mexicana (enfrente del Museo) donde los visitantes pueden degustar un menú especial de comidas tradicionales del Día de Muertos, con altares a la vista (el descuento es válido solo para el 1 de noviembre del 2021).
Boletos para El libro de la Vida: $ 12 / $ 10 para personas mayores y estudiantes / $ 8 para jóvenes (de 3 a 17 años) / con descuento para miembros del MoMI ($ 7 a $ 11). Reserva tus boletos aqui. Después de su compra, se enviará un boleto electrónico por correo electrónico. Todos los asientos son de admisión general. Por favor revise protocolos de seguridad antes de su visita. Para obtener un discuento del 15% usa el codigo: DAYOFDEAD15 (miembros del museo reciben un descuento de 50%).