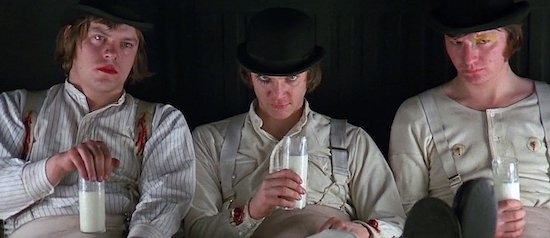 SCREENING
A Clockwork Orange
Part of Complete Kubrick
Sunday, October 10, 2:30 p.m.
Museum of the Moving Image – Redstone Theater
Dir. Stanley Kubrick. 1971. 137 mins. New 4K DCP. With Malcolm McDowell, Patrick Magee, Adrienne Corri, Miriam Carlin. Kubrick's savage adaptation of Anthony Burgess's 1962 novel is among the most infamous and controversial mainstream narrative movies ever made. McDowell is unforgettable as Alex, the amoral, nihilist, Beethoven-obsessed head of the Droogs, a gang of marauding teen rapists and murderers rampaging across a dystopic, diseased future London. After arrest, he is subject to a treatment in which his violent impulses are turned back on him, leading to provocative questions about government control and free will. A Clockwork Orange, which was rated X upon release, remains shocking, bleak, and grimly funny.
Tickets: $15 / $11 seniors & students / $9 youth (ages 3–17) / $7 for MoMI members. Order online.
After your purchase, an electronic ticket will be sent via email. All seating is general admission. Please review safety protocols before your visit.