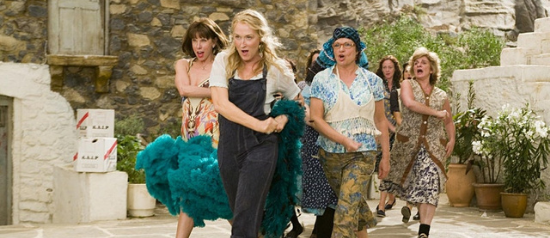 DRIVE-IN SCREENING
Mamma Mia!
Part of Queens Drive-In 2021
Sunday, May 9, 7:00 p.m.
Queens Drive-In at NYSCI, 47-01 111 Street, Corona, NY 11368
Dir. Phyllida Lloyd. U.S./U.K./Germany, 2008, 108 mins. With Meryl Streep, Amanda Seyfried, Stellan Skarsgård, Pierce Brosnan, Colin Firth, Christine Baranski. Based on the songs of the Swedish pop band ABBA and the smash Broadway musical, Phyllida Lloyd's Mamma Mia! tells the story of Sophie (Seyfried), who has just one wish to make her wedding perfect: for her father to walk her down the aisle. The only catch? She doesn't know who he is. After reading the diary of her mother (Streep), Sophie invites all three of her mother's former boyfriends to her wedding. Full of irresistible characters, liberating dance numbers, and catchy pop favorites, Mamma Mia! is a nurturing and delightful musical that centers on the unshakable bond between a mother and a daughter. Rated: PG-13
Order tickets online. Tickets: Starting at $35 per car (up to 5 passengers per car). Members receive a 30% discount. Learn more about membership and join here. Doors will open each night around 7:00 p.m., events will begin at 8:00 p.m. and end by 11:00 p.m.
Donations to MoMI help support initiatives like the Queens Drive-In. Please consider making a gift today.