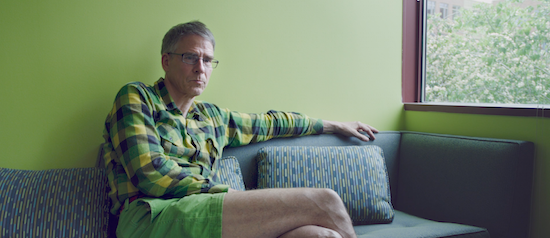 Live Online Event
In Silico Discussion with Noah Hutton and Christof Koch
Alongside the Virtual Cinema presentation of the new film In Silico, the Museum will host a live online conversation between director Noah Hutton and renowned neuroscientist and consciousness researcher Christof Koch, moderated by Associate Curator of Science and Film Sonia Epstein.
Free with RSVP.
An email will be sent one hour before the event begins, with information about joining the live program. Please note New York time zone / ET.
About the film: Ten years in the making, In Silico charts a renowned neuroscientist's decade-long attempts to simulate the human brain on supercomputers. The filmmaker, initially drawn in by the project's audaciousness, gathers observations and critiques from a range of experts in the field, and must ultimately come to terms with the limitations and his own expectations regarding such an enormous undertaking. In Silico was supported in part by a production grant from the Alfred P. Sloan Foundation.

About the speakers:
Noah Hutton is a writer and director of documentary and narrative films. He was nominated for the 2021 Independent Spirit Award for Best First Screenplay for Lapsis, a sci-fi feature he wrote, directed, scored, and edited, which premiered in the narrative feature competition at SXSW 2020 and was acquired by Film Movement for theatrical release in 2021. His documentary feature In Silico, a ten-year film begun in 2009 and supported by Sandbox Films and the Alfred P. Sloan Foundation, premiered at DOC NYC in 2020. Previously he directed the documentary features Deep Time (SXSW 2015) and Crude Independence (SXSW 2009).
Christof Koch is a neuroscientist best known for his work on consciousness. He is the President of the Allen Institute for Brain Science and Chief Scientist of the MindScope Program. In collaboration with Francis Crick, he initiated the modern search for the neuronal correlates of consciousness, and in collaboration with Giulio Tononi he co-developed the Integrated Information Theory of consciousness. He is the author of Consciousness: Confessions of a Romantic Reductionist, The Quest for Consciousness: A Neurobiological Approach, Biophysics of Computation: Information Processing in Single Neurons, and Methods in Neuronal Modeling: From Ions to Networks. His latest book, The Feeling of Life Itself – Why Consciousness Is Everywhere But Can't Be Computed, was published by MIT Press in 2019.