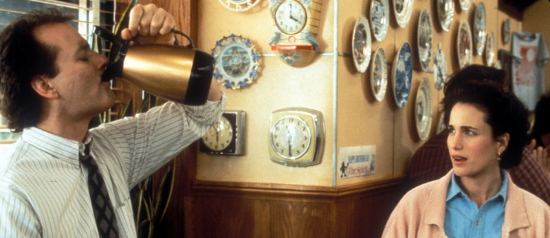 DRIVE-IN SCREENING
Groundhog Day
Part of Queens Drive-In 2021
Sunday, May 2, 7:00 p.m.
Queens Drive-In at NYSCI, 47-01 111 Street, Corona, NY 11368
Dir. Harold Ramis. U.S., 1993, 101 mins. With Bill Murray, Andie MacDowell, Chris Elliott, Stephen Tobolowsky. In this ingenious and philosophical comedy, considered by many to be Harold Ramis's masterpiece, Harold (Bill Murray) is a television weatherman reporting on the Groundhog Day festivities in Punxsutawney, Pennsylvania, whose narcissism traps him in a supernatural time loop. Forced to repeat the same day over and over again, Harold responds at first with anarchy, but then comes to a moral awakening. Groundhog Day has been seen as—among other things—an allegory for the Buddhist conception of existence and a satire on the arduous repetition of a movie shoot. Rated: PG
Order tickets online. Tickets: Starting at $35 per car (up to 5 passengers per car). Members receive a 30% discount. Learn more about membership and join here. Doors will open each night around 7:00 p.m., events will begin at 8:00 p.m. and end by 11:00 p.m.
Donations to MoMI help support initiatives like the Queens Drive-In. Please consider making a gift today.