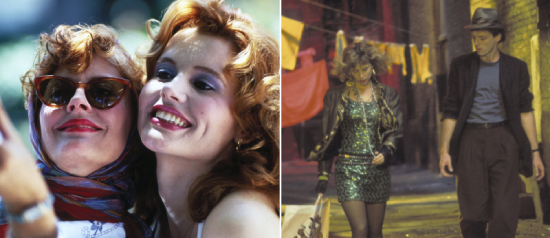 DRIVE-IN DOUBLE FEATURE
Thelma and Louise + Desperately Seeking Susan
Part of Queens Drive-In 2021
Saturday, April 24, 6:30 p.m.
Queens Drive-In at NYSCI, 47-01 111 Street, Corona, NY 11368
PLEASE NOTE NEW DATE: Due to extreme weather conditions forecasted, the March 26 presentation has been rescheduled to Saturday, April 24.
Fierce, free-spirited women seek independence on the open road or in the big city in two iconic American movies.
Thelma and Louise
Dir. Ridley Scott. U.S., 1991, 130 mins. With Susan Sarandon, Geena Davis, Harvey Keitel, Brad Pitt. In this groundbreaking, stirring drama, two close friends' lives are forever changed after one of them is sexually assaulted in public and they decide to take matters into their own hands. Starring Davis as Thelma and Sarandon as Louise, and featuring an Oscar-winning screenplay by Callie Khouri, Thelma and Louise struck a nerve with audiences and made an enduring impact in Hollywood as the cornerstone film about outlaw women in search of freedom from a violent, male-dominated society. Rated: R
Desperately Seeking Susan
Dir. Susan Seidelman. U.S., 1985, 104 mins. With Rosanna Arquette, Madonna, Aidan Quinn. A desperate New Jersey housewife (Arquette) is rescued from terminal boredom when a bump on the head and a case of amnesia cause her to be mistaken for a Lower East Side free spirit (Madonna). Riffing gleefully on Jacques Rivette's Celine and Julie Go Boating, Seidelman's screwball romp through the fashionable scenes of 1980s downtown Manhattan features a soundtrack that rocks Madonna's club anthem "Into the Groove" alongside Iggy Pop, Run-D.M.C., and classic Motown. Rated: PG-13
Recommended for ages 17+.

Order tickets online. Tickets: $39 per car (up to 5 passengers per car). Members receive a 30% discount. Learn more about membership and join here. Doors will open each night around 6:30 p.m., events will begin at 7:30 p.m. and end by 11:00 p.m.
Donations to MoMI help support initiatives like the Queens Drive-In. Please consider making a gift today.