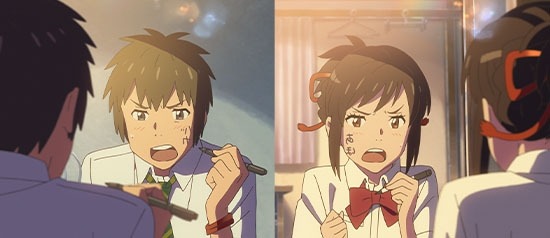 DRIVE-IN SCREENING
Your Name + Oscar-Nominated Animated Shorts
Part of Queens Drive-In 2021
Sunday, April 11, 7:00 p.m.
Queens Drive-In at NYSCI, 47-01 111 Street, Corona, NY 11368
Dir. Makoto Shinkai. Japan. 2016, 106 mins. In Japanese with English subtitles. Set on the eve of a rare cosmic event—the passing of a once-in-a-lifetime comet—two high school students, strangers living separate lives, suddenly switch places. Mitsuha wakes up in Taki's body and he in hers. Communicating through scribbled notes and phone diaries, they muddle through each other's lives in both frustrating and hilarious ways. What opens as a teen romance expands into a mystery touching upon Shinto rites and the supernatural. At its core, Your Name captures the longing for lost places and people, underscored by Shinkai's gorgeous hyper-realist style indelibly etching Tokyo's cityscape and the beauty of rural Japan—and the ubiquitous trains threading through them—into the viewer's memory. The emotive soundtrack features music by the Japanese rock band Radwimps. Rated: PG
Followed by:
2021 Oscar-Nominated Animated Short Films

Burrow (Dir. Madeline Sharafian. U.S., 2020, 6 mins.) A young rabbit embarks on a journey to dig the burrow of her dreams, despite not having a clue what she's doing. Rather than reveal to her neighbours her imperfections, she digs herself deeper and deeper into trouble.
Genius Loci (Dir. Adrien Merigeau. France, 2019, 16 mins.) One night, Reine, a young loner, sees among the urban chaos a moving oneness that seems alive, like some sort of guide.
If Anything Happens I Love You (Dirs. Michael Govier, Will McCormack. U.S., 2020, 13 mins.) Grieving parents struggle with the loss of their daughter after a school shooting. An elegy on grief.
Opera (Dir. Erick Oh. South Korea, 2020, 9 mins.) Written and directed by award-winning filmmaker and former Pixar animator Erick Oh, Opera is an animation project that can be defined as a contemporary animated edition of the Renaissance fresco mural paintings.
Yes-People (Dir. Gísli Darri Halldórsson, Iceland, 2020, 9 mins.) One morning an eclectic mix of people face the everyday battle, such as work, school and dish-washing. As the day progresses, their relationships are tested an
Order tickets online. Tickets: Starting at $35 per car (up to 5 passengers per car). Members receive a 20% discount. Learn more about membership and join here. Doors will open each night around 7:00 p.m., events will begin at 8:00 p.m. and end by 11:00 p.m.

Donations to MoMI help support initiatives like the Queens Drive-In. Please consider making a gift today.