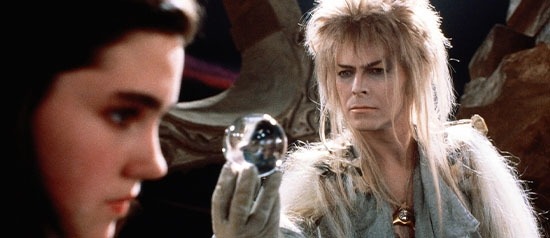 DRIVE-IN SCREENING
Labyrinth
Part of Queens Drive-In 2021
Sunday, April 4, 6:30 p.m.
Queens Drive-In at NYSCI, 47-01 111 Street, Corona, NY 11368
Dir. Jim Henson. U.S. 1986, 101 mins. With Jennifer Connelly, David Bowie. In order to save her brother, who has been captured by the Goblin King, Sarah must find her way through a magical labyrinth. In a role that launched a million disquieting crushes, a perfectly cast David Bowie plays the teasing, tempting seducer whom Sarah has to both desire and reject in order to learn the labyrinth's lessons. Rich with elaborate set pieces, including a castle inspired by M.C. Escher; a witty script by Monty Python member Terry Jones; and a cast of fanciful Henson creations, this beloved fantasy is a remarkable achievement. Rated: PG
Order tickets online. Tickets: Starting at $35 per car (up to 5 passengers per car). Members receive a 20% discount. Learn more about membership and join here. Doors will open each night around 6:30 p.m., events will begin at 7:30 p.m. and end by 11:00 p.m.
Donations to MoMI help support initiatives like the Queens Drive-In. Please consider making a gift today.