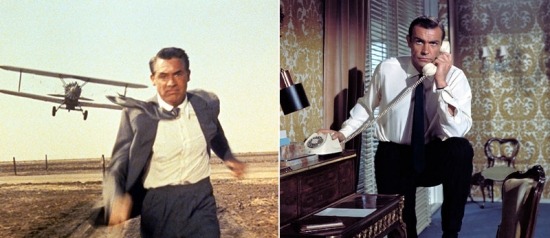 DRIVE-IN DOUBLE FEATURE
North by Northwest + From Russia with Love
Part of Queens Drive-In 2021
Saturday, April 3, 6:30 p.m.
Queens Drive-In at NYSCI, 47-01 111 Street, Corona, NY 11368
Hitchcock's influence on the Bond film is never clearer than in this pairing of witty, runaway spy thrillers.
North by Northwest
Dir. Alfred Hitchcock. U.S., 1959, 131 mins. With Cary Grant, Eva Marie Saint, James Mason, Leo G. Carroll. This absurdly thrilling entertainment from the Master of Suspense stars a never-better Grant as an advertising executive on the run from a dastardly group of spies who have mistaken him for a government agent. Shot in Technicolor and featuring as many vertiginous angles, great escapes, and witty bits of dialogue as one could conceive for a single film, Hitchcock's North by Northwest is an extraordinary, rollicking masterpiece.
From Russia with Love
Dir. Terence Young. U.K./U.S., 1963, 118 mins. With Sean Connery, Pedro Armendariz, Lotte Lenya, Robert Shaw, Bernard Lee, Daniela Bianchi. One of the most beloved of the original five 007 productions led by Sean Connery, this is the James Bond adventure par excellence, embodying the franchise's seamless blend of Cold War intrigue, Hitchcockian suspense, white-knuckle action, and effortless sex appeal. From its cold open and title theme song to its introduction of Bond's gadgets and its climactic helicopter chase—straight out of North by Northwest—From Russia with Love at once establishes and perfects all the classic elements of the enduring spy fantasy. Rated: PG
Order tickets online. Tickets: $39 per car (up to 5 passengers per car). Members receive a 20% discount. Learn more about membership and join here. Doors will open each night around 6:30 p.m., events will begin at 7:30 p.m. and end by 11:00 p.m.
Donations to MoMI help support initiatives like the Queens Drive-In. Please consider making a gift today.