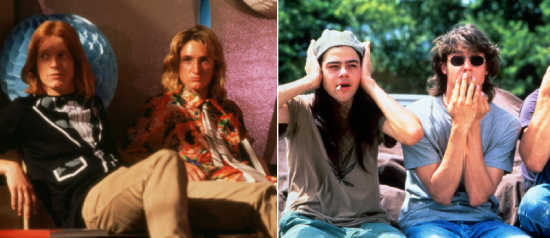 DRIVE-IN DOUBLE FEATURE
Fast Times at Ridgemont High + Dazed and Confused
Part of Queens Drive-In 2021
Saturday, March 27, 6:30 p.m.
Queens Drive-In at the NYSCI, 47-01 111 Street, Corona, NY 11368
Two comedy cult classics depict the joys, confusions, and mischief of adolescence.
Fast Times at Ridgemont High
Dir. Amy Heckerling. U.S., 1982, 90 mins. With Sean Penn, Jennifer Jason Leigh, Judge Reinhold, Phoebe Cates, Forest Whitaker, Eric Stoltz, Nicolas Cage. The smash directorial debut of Amy Heckerling (Clueless), Fast Times at Ridgemont High was based on a screenplay by Cameron Crowe, adapted from his book about going undercover as a student at Clairemont High School in San Diego. This coming-of-age comedy chronicles a school year during which an inexperienced teen (Leigh) seeks romance, and her stoner surfer friend (Sean Penn) faces off against a strict teacher (Walston). Romantic, funny, and occasionally shocking, Fast Times is as honest, fresh, and funny today as it was nearly 40 years ago. Rated: R
Dazed and Confused
Dir. Richard Linklater. U.S., 1993, 102 mins. With Jason London, Wiley Wiggins, Parker Posey, Matthew McConaughey, Ben Affleck, Milla Jovovich, Joey Lauren Adams. Set in 1976, Richard Linklater's exuberant, finely detailed comedy captures the last day of school before summer at Lee High School in Austin, Texas. Following a range of Texas teenagers over the course of one long night, Dazed and Confused manages to vividly recreate a '70s milieu of jocks and stoners, hippies and squares, while rooting the story in a rollicking sense of the minutely observed present moment, making it a perennial favorite for ensuing generations. Featuring early but unforgettable appearances by Posey, McConaughey, and Affleck, Dazed and Confused beautifully and sensitively dramatizes the youthful feeling of not knowing what happens next, as well as the panics, joys, and fears of being a kid on the verge. Rated: R

Order tickets online. Tickets: $39 per car (up to 5 passengers per car). Members receive a 20% discount. Learn more about membership and join here. Doors will open each night around 6:30 p.m., events will begin at 7:30 p.m. and end by 11:00 p.m.

Donations to MoMI help support initiatives like the Queens Drive-In. Please consider making a gift today.