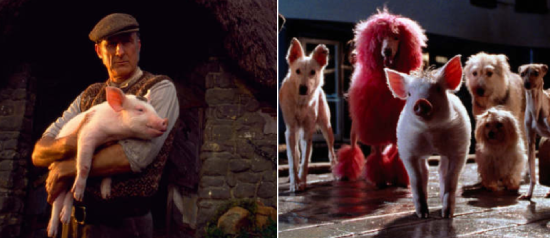 DRIVE-IN DOUBLE FEATURE
Babe + Babe: Pig in the City
Part of Queens Drive-In 2021
Sunday, March 21, 6:00 p.m.
Queens Drive-In at NYSCI, 47-01 111 Street, Corona, NY 11368
The fabulous farm pig turned superstar shines in two critically acclaimed family films of the '90s.
Babe
Dir. Chris Noonan. Australia/U.S., 1995, 92 mins. With James Cromwell, Magda Szubanski. Adapted from Dick King-Smith's classic 1983 children's novel The Sheep-Pig, Babe (voiced by Christine Cavanaugh) is the inspirational story of a shy Yorkshire piglet searching for his place in the world. When Farmer Hoggett (Cromwell) wins him at the county fair, Babe arrives at his farm with a bit of identity crisis, finding his calling as a sheep-dog. With the help of a delightful assortment of barnyard friends, the heroic pig is headed for the challenge of his life. A surprise Best Picture nominee for the 1995 Oscars—and a winner for Best Visual Effects—this endearing and fun-filled tale is enjoyable for the whole family. Rated: G
Babe: Pig in the City
Dir. George Miller. U.S./Australia, 1998, 96 mins. With James Cromwell, Magda Szubanski, Mickey Rooney. Director George Miller, perhaps best known for his Mad Max franchise, cleverly directs this ambitious, charming sequel to the international sensation Babe, which he had produced and co-wrote. In an effort to save the farm, Babe (this time voiced by E. G. Daily) finds himself waylaid in the fictional city of Metropolis after Farmer Hoggett (Cromwell) is injured and unable to work. Filled with life lessons, this adventure through an alternately fun and frightening cityscape introduces us to an assortment of new animal friends looking for a home. Miller's follow-up is a visually stunning extravaganza with visionary set design and effects. Rated: PG
Order tickets online. Tickets: $39 per car (up to 5 passengers per car). Members receive a 20% discount. Learn more about membership and join here. Doors will open each night around 6:00 p.m., events will begin at 7:00 p.m. and end by 11:00 p.m.
Donations to MoMI help support initiatives like the Queens Drive-In. Please consider making a gift today.