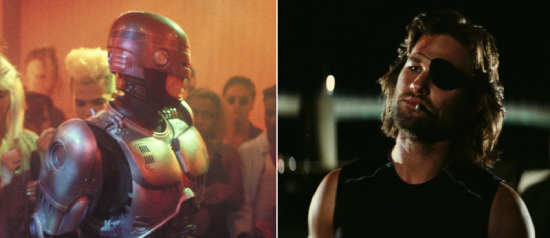 DRIVE-IN DOUBLE FEATURE
Escape from New York + RoboCop
Part of Queens Drive-In 2021
Saturday, March 20, 6:30 p.m.
Queens Drive-In at NYCI, 47-01 111 Street, Corona, New York 11368
Two action-packed '80s sci-fi classics boast groundbreaking effects and set design to predict dangerous, violent futures.
Escape from New York
Dir. John Carpenter. U.S., 1981, 99 mins. With Kurt Russell, Isaac Hayes, Ernest Borgnine, Lee Van Cleef, Harry Dean Stanton, Donald Pleasence. In a dystopian future ravaged by crime, the United States government has converted Manhattan into a giant maximum-security prison. Its brutal, roaming prisoners report to the menacing boss, the Duke of New York (Issac Hayes). When the U.S. President (Donald Pleasence) crash-lands inside, only one man can bring him back: notorious outlaw and former Special Forces war hero Snake Plissken (Kurt Russell). But time is short: unless he succeeds, in 24 hours, an explosive charge implanted in Snake's neck will end his mission—and his life. Rated: R
RoboCop
Dir. Paul Verhoeven. U.S., 1987, 102 mins. With Peter Weller, Nancy Allen, Dan O'Herlihy, Miguel Ferrer. By borrowing The Terminator's tech-noir aesthetic and outfitting it with a number of key factory extras—including a satirical engine churning away underneath its various brutally effective action set pieces—Paul Verhoeven and his collaborators created the late-1980s Hollywood vehicle par excellence. Alternately hilarious and harrowing, RoboCop is perhaps Verhoeven's greatest parody of American corporate culture and domination. Rated: R
Order tickets online. Tickets: $39 per car (up to 5 passengers per car). Members receive a 20% discount. Learn more about membership and join here. Doors will open each night around 6:30 p.m., events will begin at 7:30 p.m. and end by 11:00 p.m.
Donations to MoMI help support initiatives like the Queens Drive-In. Please consider making a gift today.