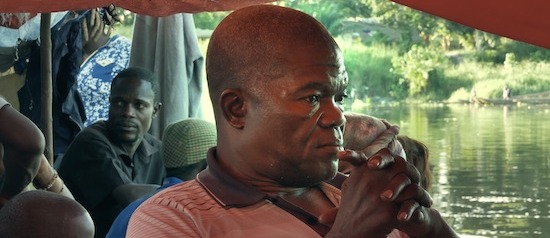 NEW ONLINE RELEASE

Downstream to Kinshasa
April 16–May 2
Museum of the Moving Image is pleased to partner with Icarus Films to bring Downstream to Kinshasa directly to Museum members and patrons to view from home.

Order tickets and view here (tickets: $12 / $10 MoMI members). A portion of ticket sales benefits the Museum and its staff.
Dir. Dieudo Hamadi. Democratic Republic of the Congo/France/Belgium, 2020, 90 mins. In Lingala and Swahili with English subtitles. Decades ago, the armies of Uganda and Rwanda fought in Kisangani, a city in the Democratic Republic of the Congo and the birthplace of the director Dieudo Hamadi. The war resulted in thousands of deaths and injuries. Now, the members of the Association of Victims of the Six-Day War fight for the recognition of this bloody conflict and demand compensation for their losses. Tired of bureaucratic negotiations and unsuccessful pleas, the survivors decide to journey through the Congo River to the capital, Kinshasa, to voice their claims. In between documenting the protests, Hamadi showcases the spirited performances of Troupe les zombies de Kisangi, the theatrical troupe created by the same war victims. This powerful documentary represents the resilience and resistance of people who, according to Hamadi, have "an indomitable desire to live." Official Selection of the 2020 Cannes Film Festival and the 2020 Toronto Film Festival. An Icarus Films release. View trailer.
"Reflective verité-style film gives voice to survivors." —Pat Mullen, POV Magazine

"Vital as a commentary on contemporary African society, human rights and disability issues." —Jonathan Romney, Screen Daily

"Riveting; electric! —Devika Girish, The New York Times