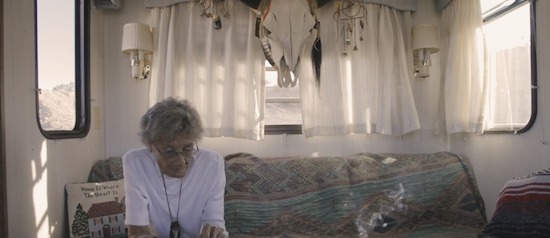 NEW ONLINE RELEASE

Truth or Consequences
March 5–20
Museum of the Moving Image is pleased to partner with Sentient Art Film to bring
Truth or Consequences
to audiences to view from home.
To support the Museum, please use the link below to watch the film.
Truth or Consequences
Dir. Hannah Jayanti. U.S., 2021, 102 mins. Jayanti shot, directed, and edited this fascinating, speculative documentary set in the small desert town of Truth or Consequences, New Mexico, its eccentric name the result of a 1950 radio game show contest. Centered on the experiences and memories of five residents, the film harmoniously weaves together observational documentation, archival footage, and virtual reality experimentation, with a sci-fi undertone inspired by a launch site for commercial space travel that exists outside of town. Featuring an improvised score by Grammy-winning musician Bill Frisell,
Truth or Consequences
contemplates existence on this planet and beyond. Official selection, 2020 Rotterdam Film Festival. A Sentient Art Film release.
View trailer.
"A profound reflection on mankind's eternal urge to seek new frontiers." —Davide Abbatescianni, POV Magazine
"A great documentarian letting her heart guide her." —Max Carpenter, MUBI Notebook
Watch a conversation with director Hannah Jayanti and creative collaborator Alexander Porter (who created the virtual worlds), moderated by independent programmer Inney Prakash.
The Truth or Consequences team, led by Alexander Porter, used techniques from virtual reality to create otherworldly spaces from the documentary footage and places in the film. Explore them here.