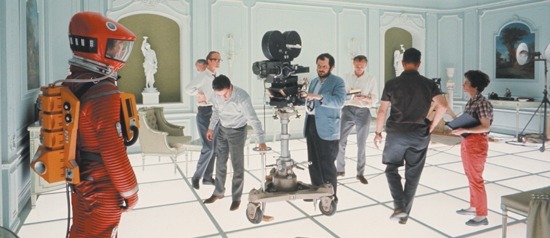 EXHIBITION

Envisioning 2001: Stanley Kubrick's Space Odyssey
April 30–October 17, 2021
Changing Exhibitions Gallery
To combine your exhibition experience with a screening of
2001: A Space Odyssey
, please select your screening date and time, then use the combination ticket option. View film schedule
here
.
Directed by Stanley Kubrick and developed in collaboration with writer Arthur C. Clarke,
2001: A Space Odyssey
(1968) depicts the fraught relationship between humanity and technology, using pioneering special effects. Made before the first moon landing, the film had and continues to exert widespread influence on cinema, design, painting, architecture, and advertising. The Museum will present a major exhibition that explores Kubrick's influences, his obsessive research, and his innovative production process in envisioning a world of the future—the year 2001 from the viewpoint of the 1960s. The exhibition includes original artifacts from international collections and from the Stanley Kubrick Archive at the University of the Arts London, as well as from the Museum's own collection.
Exhibition highlights include Special Photographic Effects Supervisor Douglas Trumbull's concept sketches for Clavius Base, from MoMI collection; costumes, including a space suit worn in the Clavius Base scene and Moonwatcher ape suit worn by Dan Richter in the Dawn of Man scene; and storyboards, contact sheets, test films, and photographs related to the Stargate special effects sequence.

Museum members receive free admission. Become a MoMI member today.
Envisioning 2001: Stanley Kubrick's Space Odyssey was organized by the DFF – Deutsches Filminstitut & Filmmuseum in Frankfurt am Main (where the exhibition debuted in 2018), supported by the Stanley Kubrick Archive at University of the Arts London, Warner Bros. Entertainment Inc., and Stanley Kubrick Film Archives LLC. Additional support provided by: George Lucas Family Foundation, Film and Furniture.