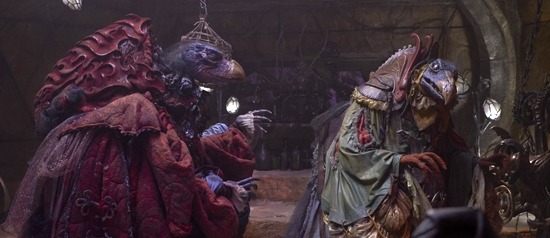 EXHIBIT

Creatures from the Land of Thra: Character Design for The Dark Crystal: Age of Resistance
Ongoing
In Behind the Screen
Please note: As part of the worldwide effort to mitigate the spread of coronavirus, the Museum building is temporarily closed and all exhibitions and programs suspended until further notice.

Creatures from the Land of Thra: Character Design for
The Dark Crystal: Age of Resistance explores the process of designing the fantastical characters for the new Netflix series, a prequel to the 1982 film co-directed by Jim Henson and Frank Oz. The exhibit features a selection of concept art, maquettes, puppets, and behind-the-scenes images, tracing the collaboration between concept artist Brian Froud, who originated the world of Thra in
The Dark Crystal
, and Jim Henson's Creature Shop, which built the puppets for the series. Highlights include the Hunter Skeksis, the General Skeksis, a Fizzgig, and the All-Maudra and Seladon Gelflings, as well as a series of detailed maquettes, created by Toby Froud, which were used as models for the characters.

The ten-part Netflix series, The Dark Crystal: Age of Resistance, which premieres on August 30, pits Gelfling heroes against the nefarious Skeksis, as they attempt to save their world. The series is set many years before the story depicted by The Dark Crystal, and presents a greatly expanded world with many additional characters.
Special thanks to Netflix and The Jim Henson Company