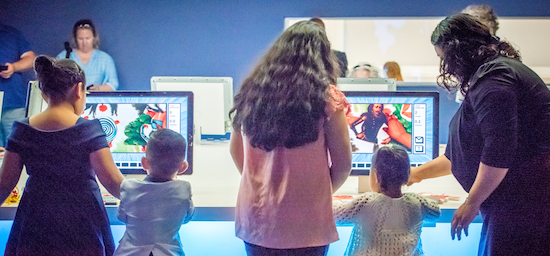 A NEW DIGITAL BADGE FOR TEACHERS
Online Professional Development Sessions in July and August 2021
Calling all teachers! Please join us for Moving Image Masterminds professional development sessions, free to all New York City Department of Education teachers ($15 per day for all others). Sessions are drop-in style, tailored to participant needs and interest. Led by a media educator, this online (virtual) professional development experience is offered every Tuesday in July and August, from 4:30–6:00 p.m. ET. You may register for one workshop as a stand-alone session, or participate in all sessions to improve your game as an expert in student engagement. Register here.
These professional development sessions are part of a new digital badge program for teachers, designed by Museum of the Moving Image in collaboration with the software company Adobe. The Moving Image Masterminds Digital Badge is for teachers of any subject area, grade level, and ability. Every teacher who joins will bring the gift of digital fluency to their classrooms, and get the chance to win prizes, awards, and a digital membership to Museum of the Moving Image.
The activities that comprise the digital badge align an exploration of creative technologies with core learning standards to stimulate and help transform the hybrid and distance-learning models that have become the new normal. The initiative is intended to inspire new filmmakers and media innovators in New York City English, Math, Science, Social Studies, and Civics classrooms.
True digital literacy innovation comes not only from access to digital tools but also from scaffolded guidance and new experiences that teachers can create for students to experiment with creative technologies and moving image histories. As schools chart new territory in navigating a combination of remote, hybrid, and on-site educational instruction, the future of education and student achievement depends upon one key element: the ability to integrate digital media creation into all curricular areas. The digital badge program will help teachers of all subject areas become proficient in the digital arts and create new instructional methods and assignments that will close the digital divide between students who lack media fluency and those who thrive in the digital world.
For more information, visit this project page on the Adobe Education Exchange platform. As part of the badge, teachers will learn how to transform tools of the moving image to super-charge digital engagement with students in all subjects and grade levels.
For more information or guidance, please write us at education@movingimage.us.
Join the Moving Image Masterminds: digital literacy defenders in all subject areas, for all students.